BluguardL900 Alarm Security System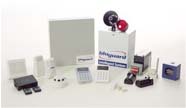 BluguardL900 Alarm Set
Bluguard is a product of Archtron, which was awarded as MSC status company in 2005. Archtron has a strong Research and Development team since then recognized as innovator in alarm security system.

BluguardL900 is a sought after wireless alarm security system. Besides the usual alarm feature, the system has optional to either link to fix line or GSM module. BluguardL900V is an advance feature with voice feedback on system status.

At Emanz Technologies, we recognise each customer may have individual reguirement and that is why we have prepared Bluguard alarm system in several packages to suit your need. Contact us today for details.